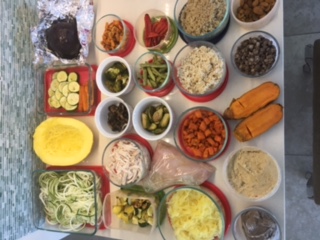 On my website, one key strategy I mention in the recipe section is "A+ weekly prep". I'm giving myself an A+ this week for sure!
Imagine all I can do with this bounty: zucchini noodles, spaghetti squash, lightly roasted zucchini and carrot sticks for hummus dipping, roasted beets, zucchini, yellow squash, mushrooms, broccoli, green beans, brussels sprouts, sweet potatoes and carrots, pulled rotisserie chicken and a breast marinating for the grill or oven, brown rice, quinoa, baked sweet potato, hummus, black bean dip, lentils, and activated nuts. I also have cashew cheese, homemade marinara loaded with fresh veggies (pureed), and spinach and walnut pesto in my freezer from various past sessions that I can use for easy flavor. And of course, several avocados ripening on the counter! #thisweeksmealsdone
(Please note that this particular "meal prep" may look overwhelming but took under 2 hours using past experiences, some basic knowledge, and the chopped vegetables I had on hand).